Sports Bar
Home of sport, Dtwo Harcourt Street. One of Dublin's leading sports bar showing you all the major sporting events.
Watch all the action live on 20 screens in our incredible Sports Bar including our 20 foot MONSTER screen!
Dtwo offers a stadium style seating for all major sporting events.
The BBQ grill will be fired up with a full menu available.
To reserve your area today call: (01) 476 4682 or email Info@dtwo.ie
Book a table to avail of exclusive Match-Day specials.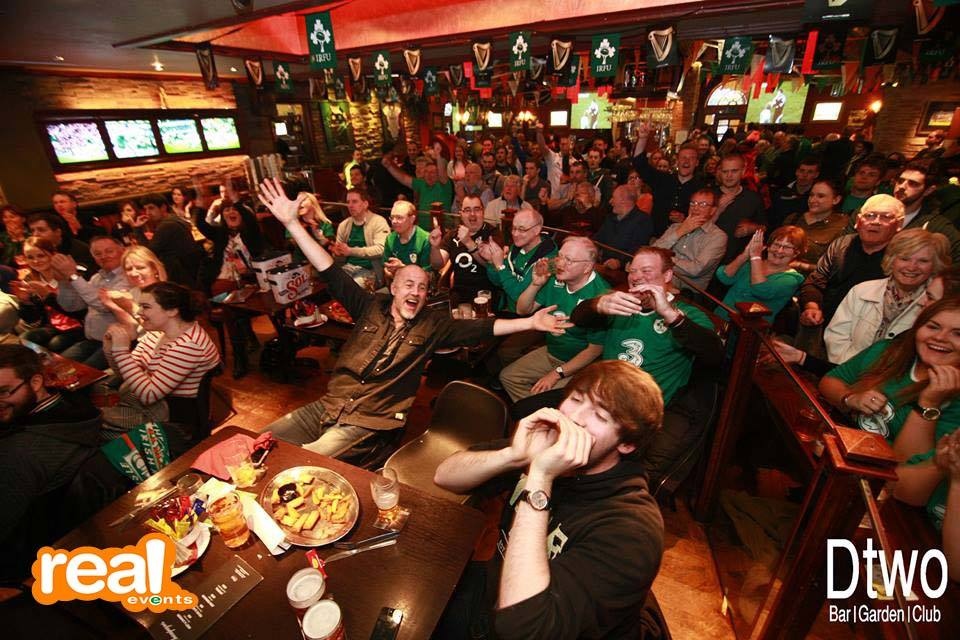 | | | | |
| --- | --- | --- | --- |
| | Sports Schedule | W/E 15/03/2020 | |
| Day/Date | Sport | Game | Time |
| | | | |
| Mon 09/03 | Premier League | Leicester v Aston Villa | 19:45 |
| | | | |
| Tue 10/03 | Cheltenham | Day 1 | 13:30 |
| | Champions League | RB Leipzig v Tottenham | 20:00 |
| | | | |
| Wed 11/03 | Cheltenham | Day 2 | 13:30 |
| | Premier League | Man City v Arsenal | 19:30 |
| | Champions League | Liverpool v Atletico Madrid | 20:00 |
| | | | |
| Thurs 12/03 | Cheltenham | Day 3 | 13:30 |
| | Europa League | LASK v Man United | 17:55 |
| | Europa League | Olympiakos v Wolves | 20:00 |
| | | | |
| Fri 13/03 | Cheltenham | Day 4 | 13:30 |
| | Irish Premier Division | Dundalk v St. Pats | 20:00 |
| | | | |
| Sat 14/03 | Premier League | Watford v Leicester | 12:30 |
| | Six Nations (TBC) | Wales v Scotland | 14:15 |
| | National Hurling League | TBC v TBC | 14:30 |
| | Premier League | Man City v Burnley | 15:00 |
| | Premier League | Aston Villa v Chelsea | 17:30 |
| | National Football League | Donegal v Tyrone | 19:00 |
| | | | |
| Sun 15/03 | National Hurling League | TBC v TBC | 13:30 |
| | Premier League | West Ham v Wolves | 14:00 |
| | Premier League | Tottenham v Man United | 16:30 |